An Analysis of Union Budget 2020-21 – Persons with Disabilities
Ability India
Mapping the Institutional Architecture for Persons with Disabilities
The Department for the Empowerment of Persons with Disabilities (DEPwD) under the Ministry of Social Justice and Empowerment is the nodal agency for addressing the issues concerning Persons with Disabilities (PwD). The objective of this department is to ensure that persons with disabilities are effectively included in the development agenda of the nation.
The Union Government through this department has the mandate to implement the international laws such as the United Nations Convention on the Rights of Persons with Disabilities (UNCRPD) and other international commitments. It is the responsibility of the Government to oversee their implementation across the country.
Recommendations of the Committee on the Rights of Persons with Disabilities
The Government had the obligation to consider the recommendations of the concluding observations of the CRPD committee 14 that was released in September 2019. The committee has specifically made recommendations for resource allocations in many sections of the recommendations. The following are a few to highlight:
An action plan for implementation of the convention and the legislations in the country by adopting policy efforts with adequate human and financial resources;
Adequate resources for the removal of barriers and inclusive information for enabling participation of persons with disabilities;
Allocation of financial resources to ensure inclusion in basic public services and support for all children with disabilities, including in early childhood, ensuring accessible early development centres for all children;
To arrive at a de-institutionalisation plan;
Provision and enhancement of sign language interpreter services;
Reaching out all services, accessibility of infrastructure in rural areas and
Introduce and ensure that all persons with disabilities access entitlements to cover disability-related extra costs, disability pensions, and strengthen identification procedures for accessing pensions and increasing pension wages;
Analysis of budgets for Persons with Disabilities
Given the above mandate, an allocation amounting to 0.04 per cent of the total expenditure of the Government is grossly inadequate to fulfil the demands. Additionally, it must be noted that the allocations for the department have remained constant for the last three years.
Select Schemes
2018-19 BE
2019-20 BE
2020-21 BE
Assistance to Disabled Persons for Purchase / Fitting of Aids
and Appliances
220
230
230
SIPDA
0
315
252
Deendayal Disabled Rehabilitation Scheme
70
75
130
Research on disability related technology
1
0
0
RCI
7
5
6
Indian Sign Language, Research and Training Centre
5
5
0
National institute of Mental Health and Rehabilitation
14
20
0
NHFDC
34
41
0.01
ALIMCO
5
60
50
Source: Compiled by EQUALS from Union Budget 2020-21.
It is to be noted that almost all schemes that lead to the participation of persons with disabilities such as Assistance to Disabled Persons for purchasing/fitting of aids/appliances (ADIP), Artificial Limbs Manufacturing Corporation of India (ALIMCO), National Handicapped Finance and Development Corporation (NHFDC) show a declining trend. The Research and Rehabilitation Institutes and as well as the Institute of Sign Language find no allocation this financial year. Scheme for Implementation of Persons with Disabilities Act (SIPDA), which is looking at accessibility and district rehabilitation, finds a reduction of Rs. 63.50 crore when compared to 2019-20 (BE).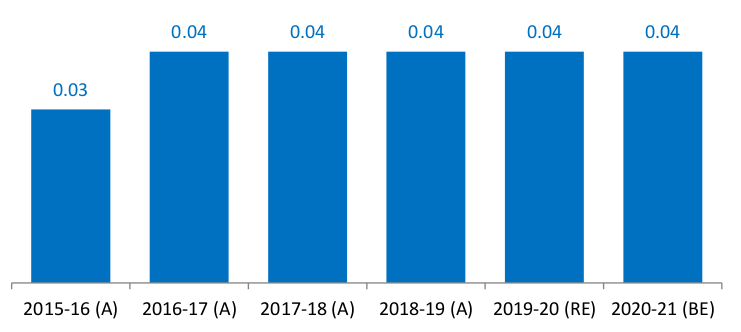 | | |
| --- | --- |
| Budget Year | Expenditure Allocation (%) |
| 2015-16 (A) | 0.03 |
| 2016-17 (A) | 0.04 |
| 2017-18 (A) | 0.04 |
| 2018-19 (A) | 0.04 |
| 2019-20 (RE) | 0.04 |
| 2020-21 (BE) | 0.04 |
Source: Compiled by CBGA from Union Budget document, various years
Note: It is to be noted that between 2014-15 and 2018-19, Rs.354.54 crore remain unspent. However, the gap between allocation and utilisation is reducing.

Trends in Indira Gandhi National Disability Pension Scheme (IGNDPS)
The Indira Gandhi National Disability Pension is the only social security benefit offered by the Union Government. It is obvious that a small increase of Rs. 50 crore from 2019-20 (BE) will not do justice to the aspirations of persons with disabilities for an adequate standard of living. It would also not adhere to the CRPD committee recommendations to compensate the additional costs of disability as well as ensuring an adequate standard of living or the budget commitments to design social protection systems in lines with international standards.

| | |
| --- | --- |
| Budget Year | Expenditure Allocation (crores) |
| 2018-19 (BE) | 277 |
| 2019-20 (BE) | 247 |
| 2020-21 (BE) | 297 |
Source: Compiled by CBGA from Union Budget document, various years
The specific allocation by the Department of Health and Family Welfare sees a decreasing trend in this year's budget. However, it is to be noted that majority of allocation has gone to Psychiatric Institutions, which is highly debated within the disability movement as there is a lack of transition plan for persons with psychosocial disability to live in the community on an equal basis with others.
The Department of School Education has an inclusive education component under the Samagra Shiksha Abhiyan. However, disaggregated data for the current year is not yet available. As programs get subsumed under larger schemes of the Government, data on disability gets invisible. This is a key issue in ensuring accountability and monitoring. To conclude, it is time that the Government comes up with an action plan with financial commitments involving the sectoral Ministries and Departments as recommended by the CRPD committee in order to "Make the Right Real" for persons with disabilities.
Source : enabled.in